Your free FineDiner account also comes with free cloud storage for your restaurant journal data.
The cloud storage has two purposes:

an automatic full backup of your visit database, including the photos you added to your visits.
automatic syncing of your visit entries between your iOS devices, e.g. your iPhone and your iPad.


Automatic and manual syncing
The FineDiner app syncs your data to and from the cloud fully automatically:

your additions and changes are automatically synced up the cloud each time you make a change to your list.
changes made on other devices are automatically synced down to your app periodically.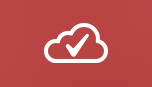 However, if you want to force a cloud sync, just tap the sync icon on the toolbar (bottom left on iPhone, 3rd from top left on iPad).
Cloud sync status icons
| | |
| --- | --- |
| | Synchronizing complete |
| | Synchronizing now |
| | Local changes detected, sync needed |